SENTRYX™ SOFTWARE ENABLED SUPER CENTURION® HYDRANT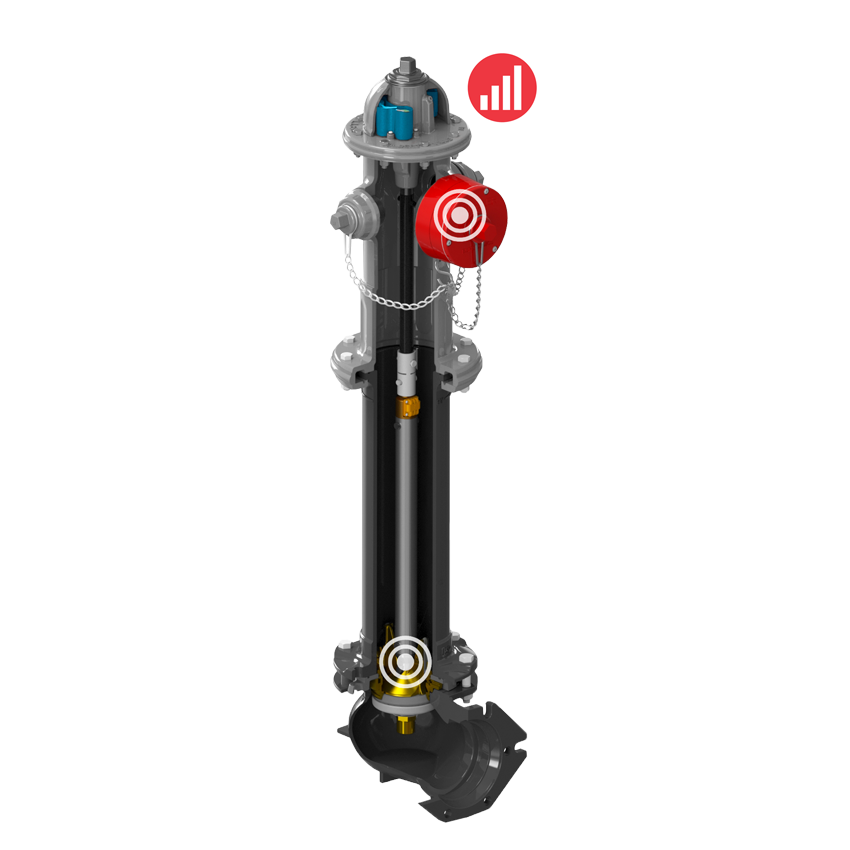 SENTRYX™ SOFTWARE ENABLED SUPER CENTURION® HYDRANT
Leveraging the next generation of Industrial IoT, powerful mapping and data visualizations as well as advanced analytics, the Sentryx software enabled Super Centurion hydrant acts as a communications hub for your water distribution system, housing the state-of-the-art pressure monitoring and leak monitoring sensors which communicate data via cellular signal to the Sentryx Water Intelligence Platform. The data captured from the hydrant can be transformed into insights that can be used to power critical decisions about your asset management, operations and maintenance programs.
Leak and pressure monitoring options are available for the Sentryx software enabled Super Centurion hydrant as a new hydrant or as a retrofit kit which can be placed in existing fire hydrants already in the user's system, avoiding the need to dig.
Super Centurion hydrants are made in our U.S.A. plant that is ISO 9001 certified. 
Features include:
Hydrant obtains and transmits data with the main valve closed, assuring that it will operate identically to a traditional, non-charged hydrant in the event of an emergency




Provides pressure data while the main valve is closed without charging the hydrant; leak monitoring is irrespective of valve position

Superior battery life – lab-tested for up to 10 years *See battery FAQ document for life expectancy

Hydrant communicates to the scalable, cloud based Sentryx Water Intelligence Platform which displays data and insights on any computer or tablet 

Innovative wireless design and engineered components inside the hydrant make installation, operation, repair and maintenance easy

Engineered with premium materials, such as 316 stainless steel and silicon bronze in the lower stem and engineered resin in the bonnet, to withstand corrosion and impact

Automatically switches into transient mode when pressure transients occur

Developed from the ground up with security in mind and offers end-to-end protection of customer data

Reports, data and notifications gathered from the Sentryx platform can be pushed into other utility software platforms making it easy to streamline operations

Hydrant: 350psi working pressure and 700psi test pressure 

Pressure sensor: Range of 0-250 psi

3RD party lab tested to comply with AWWA C502 Flow loss requirements
Certified to ANSI/NSF 61 & 372


Resources: