200 Series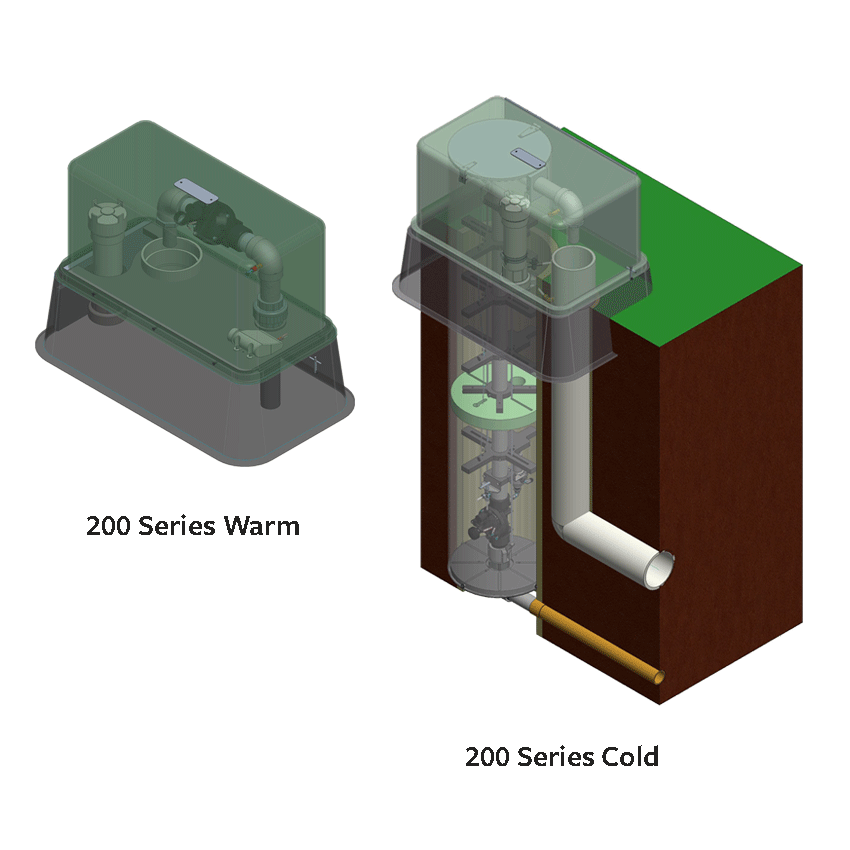 200 Series
The Hydro-Guard® 200 Series Automatic Flushing System is ideal for clients who prefer to direct their discharged water to a storm sewer or retention facility. With the available Bluetooth controller, authorized operators can schedule up to 24 different flush events into the controller through a free K-Rain KRBL V2 app than can be added to most iOS or Android phones. Flush durations can range from one (1) minute to six (6) hours per programmed flush event. Where the use of a mobile app or Bluetooth is not permitted, the 200 Series can be equipped with a built-in NODE programmer. The NODE programmer allows for scheduling of flush events multiple times per day, multiple times per week.
For the prevention of cross connection (backflow), the 200 Series is offered with standard Air Gap backflow protection*. The 200 Series system is housed in a HDPE quality, lockable, low-profile enclosure, which is often specified by utilities that may encounter water restrictions due to drought. With this design, the utility can conduct essential water quality flushing and testing without the visibility of having water flushing to the ground. 
The 200 Series Automatic Flushing System is equipped with an OEM-installed Dechlorination System and an onsite, OEM-installed Sampling System to allow water quality samples to be drawn directly from the flushing system.
Features: 
200 Series Warm Climate

Standard Air Gap backflow prevention. *Optional Reduced Pressure Zone (RPZ) or Double Check Valve (DC) for warm climate models. 

Available in either a low-profile or high-profile design. The high-profile design is ideal for flood prone areas.

Available Bury Depth: 18-inches

Thermal Control Valve (TCV) freeze protection is optional for moderate climates 

200 Series Cold Climate

Integrated freeze protection system allows all water in service piping to drain from device to prevent freezing 

Air Gap backflow prevention 

Removable internal assembly for ease of maintenance; patented CamLock Release with insulation to hold ground heat

Available Bury Depths: 36-inches, 60-inches, 84-inches, and 108-inches

Optional Pressure Monitoring for the measurement and reporting of critical pressures

Schedule 80 PVC piping with an option for no-lead Brass piping 

OEM-installed Dichlorination System to dechlorinate all discharged water before it travels to navigable waters

Accessible from above ground and housed in a lockable enclosure
Resources: 
Full Line Catalog

Contact Us About Automatic Flushing